Sure Shot Looking To Hit Bullseye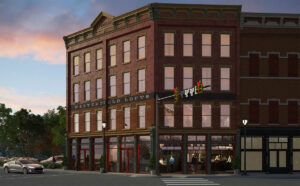 GREENVILLE – A new place to drink, eat, and socialize will be joining the Downtown Greenville landscape in the near future. Developer Andrew Riffle and father Daryl attended the Feb. 19 City of Greenville council meeting, where Council waived having a hearing regarding their Sure Shot Tap House liquor license and to speak with members regarding the new adventure. This action by Council will allow the liquor application process to continue towards finalization, barring any unforeseen obstacles.
"My wife Kalie and I love what's going on in downtown Greenville and visit frequently. The Downtown Greenville events are growing yearly and bring a lot of people to the area. I have also been watching what is going on in Bellefontaine and other comparable downtowns very closely and finally decided I was ready to commit to investing in Greenville," Andrew stated.
"A regular at the Whistle Stop in Ansonia, Ohio shared a concept he visited in San Diego and I thought it was awesome," Riffle continued. "So I reached out to Main Street Greenville and the Darke County Visitors Bureau to start discussions looking for the perfect property last fall. The 622 South Broadway property location is amazing in so many ways. I love what is happening at the YOLO Park and can't wait to see what that does for Downtown. Our property is also fortunate to have ample off street parking. We have a great marketing partner and tenant with The Early Bird. Lastly and most fitting, we are across from The Annie Oakley park. We were able to close on the building in January and demo actually started on the project just a few days after closing. We would like to thank Greenville Federal for supporting this massive project. Revival Design Studio is the project designer and bids are going to be solicited soon.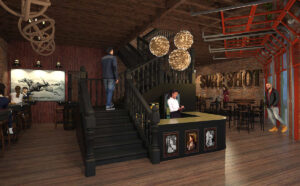 The bottom floor, which is securely separated and shared with The Early Bird, will be a 110 seat Annie Oakley themed western tap house. Sure Shot will offer a full experience in craft beer with 30-50 draft beers, ciders and wines as well as a beer inspired full menu. The 30-50 taps will be a state of the art self serving pouring system allowing the patrons to pay by the ounce so they can try new styles or just drink old favorites. The second floor will be a 6000 sq ft venue space that will be rentable for special events such as rehearsal and retirement parties, weddings, class reunions, business seminars and more. Sure Shot will also have sponsored events throughout the year such as First Fridays, an event during the horse parade and during Annie Oakley Days. I am excited that my father Daryl is going to be the overall project lead on this new endeavor. He is a proven leader with a ton of experience. My brother Adam is the project lead on the self serve beer system that the tap house will feature. Our goal is to open in the Fall of 2019 but it is too early to tell at this time due to contractor schedules. Phase two will be to construct several loft apartments on floors 3-4 overlooking beautiful Downtown Greenville.
I have to thank Matt Staugler (DCVB), Crysta Bloomingdale (Main Street Greenville), Barry Hounshell (Previous Building Owner), Jason Duff and many others who have helped thus far on the project. All these individuals see the potential in Greenville and have done nothing but support the project and I can't wait to continue to work with these groups to get the whole building developed.
When asked about his plans on The Whistle Andrew smiled, "The Whistle was a dream of mine for years that finally came to fruition. It isn't going anywhere. We remain much invested in the Ansonia community as a business and we have learned a ton regarding running that operation that we want to apply in this new adventure. I have a great team there at the Whistle Stop that feels more like a big family."
February 2019
Sure Shot Tap House Announced
Plans for the new Sure Shot Tap House were publicly unveiled at the February 19 Greenville City Council meeting. If all goes well, the establishment could open as early as fall of 2019.
Artist Renderings Released
Several renderings of the newly announced Sure Shot Tap House are released.
March 2019
Sure Shot Logo Unveiled
The official Sure Shot Tap House logo was released. The logo features a western style font with a tap handle and smoking bullet.
April 2019
Demolition Complete
Sure Shot demolition is complete. It was started January 25 and completed April 1st. Project took 9-30 yard containers.